Professional Lock Smith Lock & Key Services
Our Lock Smith technicians can assist you with almost any residential lock & key requirements which you have! We take residential safety seriously and we only employ skilled Lock Smith experts. Just the top lock manufacturers and supplies are carried by our locksmiths, however we are able to work on just about any kind of lock or safe. Biometric lock installation, home safe opening, and the installation of access control are several good examples of our more complex home service applications. Our normal residential tasks include things like opening door locks, lock re-keys, and gate lock replacement almost everywhere in Cambridge, Ontario. Should you have any issues which are not explained on this page specifically, you can give us a call anytime and ask one of our experienced lock & security techs!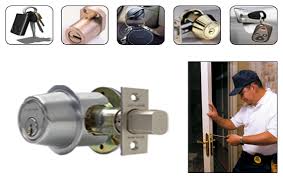 Experienced Cambridge Lock Smith
Hire An Experienced Cambridge Lock smith
Xpress Lock and Key will solve your home, auto and commercial security problems.
Call us 24 hours a day at 519-489-2586 for immediate help.
Or send us an instant message through the website and get an immediate callback.
We offer:
* Emergency Lockout Service – 24 hour locksmith on call
* Automotive Locksmith – lock openings, lock repair, rekeying
* Residential Locksmith Service – rekeying, replacing broken locks, lockouts
* Commercial Locksmith Service – high security locks, electronic locks, master key systems
* Rekey Locks – don't replace your locks, we can rekey them so you only need one key
* Lock Replacement – we can replace any lock
* High Security Locks – criminals can "bump" your locks and open them in seconds
* Keyless, Electronic and Smart Locks – high tech ways to secure your home or work
* Safes – "cracking," lock repair, moving and installation
Xpress Lock and Key is an experienced Cambridge locksmith
If you have a lock problem,
Xpress Lock and Key has a solution.
Call 519-489-2586.
We proudly service the Car/House Lockout Service needs of customers in Waterloo, Kitchener, Guelph, Cambridge, Wellesley, Elmira, Elora, St. Jacobs, Stratford, Paris, St. Marys, New Hamburg, Brantford, Woodstock and London Ontario area Call 24/7 at (519)- 489-2586 or Free Call (866) 350-4614.